IEEFA report: Oil-purchase scandal undermines privatization, contract reform at Puerto Rico power company
SAN JUAN – The Institute for Energy Economics and Financial Analysis (IEEFA) has published a report concluding that, in his push to privatize the Puerto Rico Electronic Power Authority (Prepa), the administration of Gov. Ricardo Rosselló has "mostly ignored"  a "long-running practice" of the utility, which has "bought low-quality oil at high-quality prices."
The report, "Multibillion-Dollar Oil Scandal Goes Unaddressed in PREPA Contract Reform and Privatization: History is Repeating Itself in Puerto Rico,"  points out that the utility's privatization and a parallel government contract-reform initiative "fall well short of correcting the circumstances that allowed an oil-purchase scandal to go on for as long as 30 years at the agency," as worded in IEEFA's release about the findings.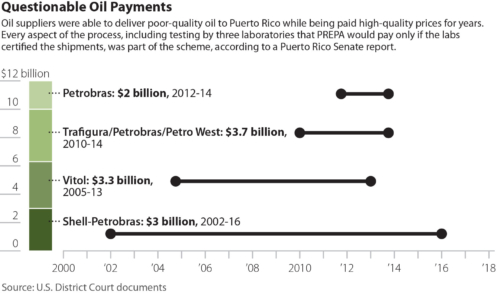 "Although weaknesses in the agency's procurement and contracting processes are clear, they are not addressed in the recently-enacted privatization law ostensibly designed to transform PREPA," said Tom Sanzillo, IEEFA's director of finance and co-author of the report with Cathy Kunkel, an IEEFA energy analyst. "Nor are they adequately addressed in recently proposed contract reforms."
The chronicles "fraud, evasion of oversight, and budget distortions" at Prepa, "all stemming from an arrangement by which oil companies working in concert with PREPA's Fuel Office and private oil-testing laboratories very likely sold PREPA overpriced oil," the release reads.
Citing detail from a class-action lawsuit and a Puerto Rico Senate investigation, the authors note that the public power company spent about $23 billion for fuel from 2002 to 2014, "which suggests the cost to consumers and bondholders could have been more than $1 billion."
IEEFA stressed that although the scandal has not received much coverage, it involved companies such as Petrobas, Petro West, Shell, Trafigura, and Vitol.
"Though it can be traced back many years, the scam in question has significant implications today, especially with regard to management reforms that are needed to rebuild PREPA," Sanzillo said. "The commonwealth of Puerto Rico cannot advance, much less thrive, without an affordable and reliable electricity system. PREPA's history of mismanagement and corruption—the most glaring examples of which can be seen in the agency's Fuel Office operations and in the oil- purchasing scheme described in this report—remains a major impediment to its success and to its ability to maintain access to capital markets."
The report's authors believe the scandal "may well give PREPA bondholders an opening to pursue claims against the involved parties," IEEFA wrote, adding that creditors "may have grounds to make claims for damages caused by PREPA's mismanagement and corruption."
The report also describes a "systematic suppression" of whistleblowers.
Excerpts from the report's executive summary:
Neither the recently-certified PREPA fiscal plan nor PREPA's FY 2019 budget make any mention of much-needed reforms of the PREPA Fuel Office.
Efforts by auditors and employees at PREPA to expose the oil-purchasing scheme in question have been suppressed.
The Senate report and a consumer class action suit brought against PREPA and the oil companies are replete with examples of actions by some of these individuals aimed at limiting exposure and preventing remedies from being enacted.
PREPA leaders and other government officials have demonstrated a persistent pattern of behavior that impairs improvement of the oversight of PREPA.
A newly-enacted PREPA privatization law remedies none of PREPA's persistent financial mismanagement problems. It fails to require strict contract negotiating procedures to prevent corruption and fails to adequately reform the processes by which PREPA management and Puerto Rico's utility regulators are exposed to political interference.
Sanzillo said that among the "failings of Rosselló's privatization and reform initiative are key omissions of commitments to the prioritization of renewable energy development, which IEEFA sees as crucial to capital investment in Puerto Rico and solvency at PREPA," the release adds.
However, the report notes that the Federal Oversight Management Board for Puerto Rico, Prepa and the governor have encouraged less dependence on imported fuels and more development of renewable energy.
"A comprehensive restructuring of the Fuel Office and true reform of PREPA's overall contracting practices are urgently needed," the report concludes. "Absent these meaningful actions, the "transformation" of PREPA is unlikely to bring real change for PREPA or its customers."
Full report: "Multibillion-Dollar Oil Scandal Goes Unaddressed in PREPA Contract Reform and Privatization: History is Repeating Itself in Puerto Rico"
–IEEFA receives its funding from such organizations as the Rockefeller Family Fund, Energy Foundation, Mertz-Gilmore Foundation, Moxie Foundation, William and Flora Hewlett Foundation, Rockefeller Brothers Fund, Growald Family Fund, Flora Family Fund, Wallace Global Fund, and V. Kann Rasmussen Foundation.